New K2 Steam Digital Control & Mobile App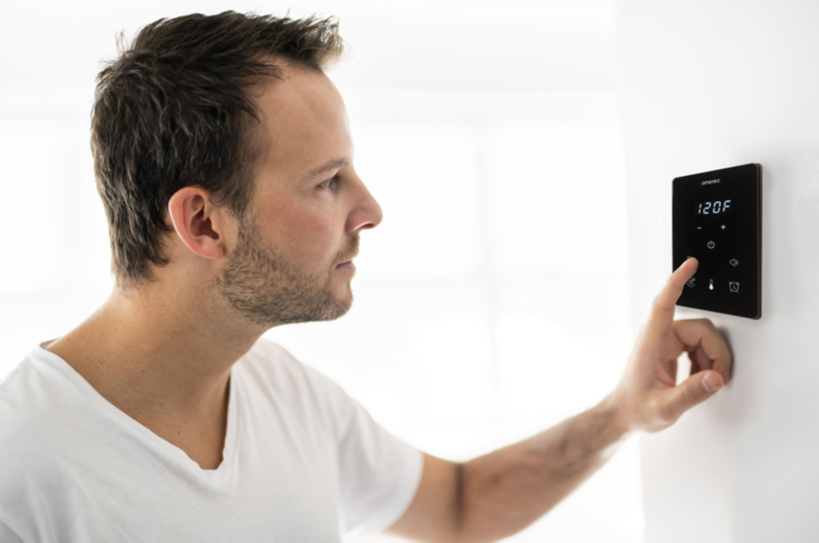 We all want to live a healthy lifestyle. However, our lives are busy and it can be difficult to squeeze in time for relaxation and self-care. Amerec wanted to make healthy living as easy as possible and is proud to introduce the new K2 Steam Touchscreen Control & Mobile App with worldwide functionality. The K2 provides absolute convenience and flexibility from the palm of your hand to ensure you get your well-needed wellness spa. Or, simply voice activate your steam shower with Google Home, Alexa or Siri.
Easy to use, modern design K2 Control
The K2 Control is easy to use and is a terrific value. The K2 is the "steam version" of Amerec's very popular and field-proven sauna control, the SaunaLogic2 (SL2). The K2 control can be mounted outside or inside the steam room for ease of use. Your smartphone becomes a second control. Other key features of the K2 control include:
Touch screen operation for easy control
Surface mount
Waterproof
Intuitive display (time/temp/lighting/ system status)
24 hr. time delay; 60-minute timer
Light control (on/off, dimmer and color selection)
WiFi module; mobile app functionality from anywhere there is cellular service
SaunaLogic app for Android or iPhone; and works with Google Home, Alexa and Siri
Includes OTA ("Over-The-Air") technology for automatic software updates to mobile devices
3.4" w x 5" h x 0.6" d
Optional choice of control trim ring in six finishes: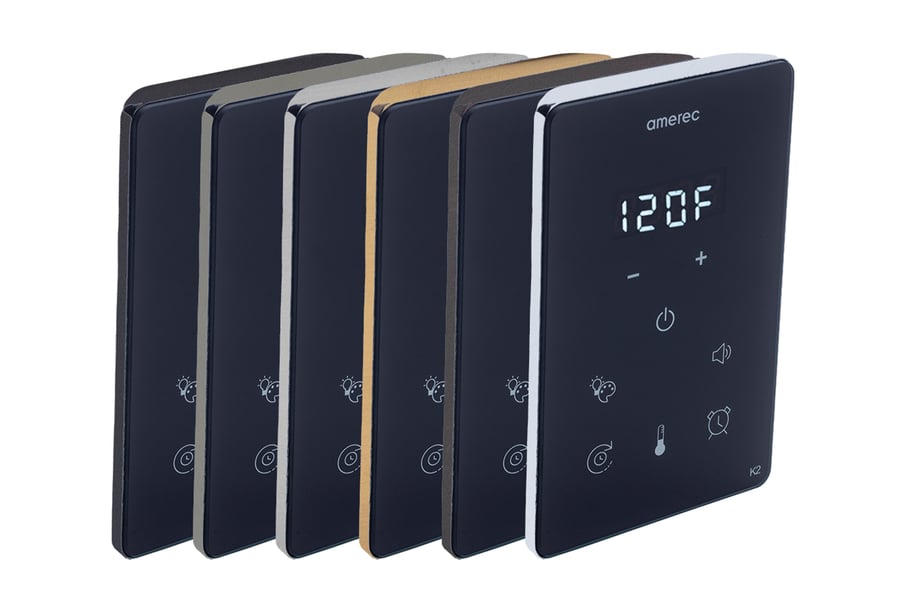 Control all steam functionality from the free Mobile App
With the K2 control, steam users can turn on and operate their steam shower from anywhere in the world where cell service or Wi-Fi is available. Sleek & modern design, the K2 control is feature-rich giving steam users flexibility to control their steam room easily, from anywhere.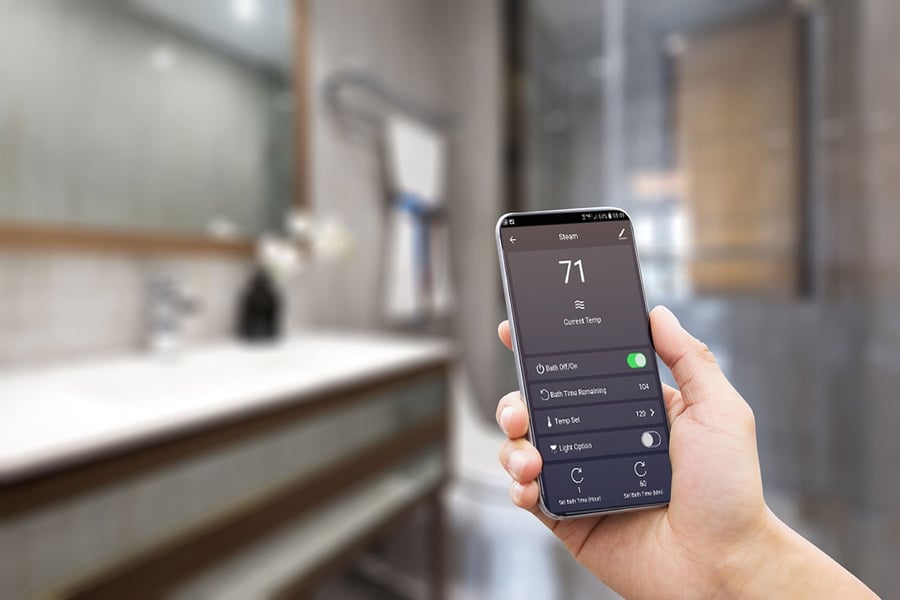 The SaunaLogic app can be used with your steam bath as well as with your Amerec traditional sauna or infrared sauna. The app is available for iPhone and Android smartphones, iPads/tablets, and works with Google Home, Alexa and Siri. The Administrator of the app can create a "Family" and add as many users as they wish.
The fully customizable mobile app-operated control has powerful capabilities and goes well beyond simple on/off functionality. The app allows users to control all functions and programming of their steam room from wherever. Within the app, the user can adjust temperature, choose the light color, set a delay time up to 24-hours, use the 60-minute timer and at-a-glance see the current status of the steam bath.
Create your dream steam
Get your revolutionary K2 steam control today! You will enjoy the ease and flexibility of operating your steam room from anywhere. The long-wished-for dream of waking up to a pre-heated steam shower or arriving home to a steam room ready to use, is now a reality. The easier it is, the more likely you are to use it and reap the health benefits. More time saving, less time wasting.
The K2 is part of Amerec's new K-Series Steam Controls. All K-Series Controls match with the AK residential steam generator that lets you tailor your own steam bath experience to your exact personal specifications. All kits include the ComfortFlo™ steam head and all the cables needed to connect the control to the generator. Let us help you start building your home spa steam room. Start browsing our steam solutions!