How to Choose a Control for Your Home Steam Bath [GUIDE]

How much control do you want? AND, when, and where do you want it it? That, plus your aptitude for enhanced features, is really what it comes down to as you navigate the control choices for your home steam bath. You have three options, which span a range from very basic to highly versatile.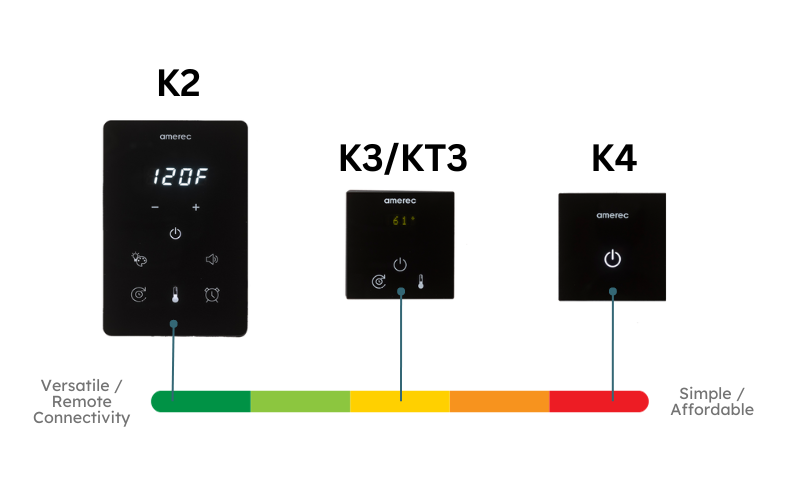 STEAM BATH CONTROL OPTIONS
Before we talk about the differences, let's quickly review your four Amerec steam bath control options: K2, K3/KT3, or K4.
The K2 Touch Screen Control is the most versatile, giving you flexibility and power to control your best steam bath experience. Using the control itself, the free app on your phone, or asking your smart home device (Google Home, Alexa, Siri), you can turn on your steam bath from anywhere you can connect to Wi-Fi. In addition to flexibility in what devices act as a control, you can also adjust a plethora of settings to set up your ideal steam bath environment: temperature, timing, and light color.
The K3 Digital Control scales back the options slightly from the K2, focusing the essentials. The mounted control, outside or inside your steam bath, is the only control interface; it allows you to adjust temperature and timing in addition to turning your steam bath on/off.
Lastly, the K4 Non-Thermostatic Control brings us to the very basic: a simple On/Off switch with a 30-minute timer. With the touch of a button, you can turn your steam bath on or off – which is also how you'll control the temperature while in the bath. If it's too hot, turn it off; when it starts getting too cold, you need to turn it back on. The primary appeal of this control is its ease of use and value
All steam bath control panels are compatible with the AK Series generators designed for home steam bathing, so you are unlimited in this regard.
HOW TO CHOOSE A CONTROL FOR YOUR HOME STEAM BATH
Often, there is a control capability (or two) that many steam bath owners deem necessary for the home spa experience they are creating. Here are some of the most common that could guide you toward one control or another.
Beyond the capabilities of each control, there are a few key factors to consider.
Temperature Control & Stability During Your Steam Bath
Ambience & Design Aesthetic Control
Control Beyond the Control (and on the Go)
Price Point
#1: Temperature Control & Stability During Your Steam Bath
For an optimal steam bath experience, we believe in a 'set it and forget it' mindset when it comes to temperature – so you can focus on relaxation and rejuvenation. The thermostatic controls on the K2 and K3/KT3 make this possible. A thermostat monitors the temperature of the room and automatically turns the system on or off to keep the temperature within 2-3 degrees of your setting. At 120 degrees, the difference of more than a few degrees makes a big difference – so this auto-temp control can make a significant impact on your enjoyment of your steam bath.
As mentioned above, with a K4 control you manually control the temperature by turning your control on or off. You'll allow your steam bath time to cool off or heat up to your desired temp, and then repeat the on/off cycle for the duration of your bath. Because it is manual, the temperature variance is destined to be less-consistent in comparison, which may affect your experience.
#2: Ambience & Design Aesthetic Control
If you are looking for the ability to control the look and feel of your steam bath – both in terms of its physical design and bathing ambience – then the K2 control is what you need.
This is the only control that enables you to have and control the ambient environment, mainly lighting. Your options include turning lights on/off, dimming lights, or changing the color. As colors have a documented effect on mood, we advocate for the use of a ceiling mounted chromatherapy/white LED light kit; then, with the ability to control them you can further enhance your steam bath experience.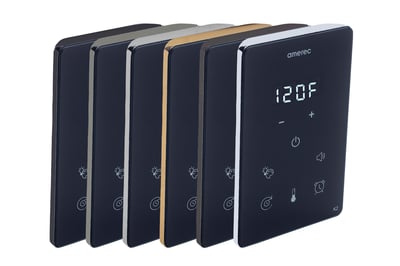 From a design standpoint, the K2 has six finish options for the trim ring (outer edging); you can choose between the following: brushed nickel, polished chrome, polished nickel, oil rubbed bronze, matte black, or brushed bronze. This flexibility lets you choose a finish that matches the aesthetic of your complete steam bath design and the larger bathroom.
These options are not available on the K3/KT3 or K4 control panels.
#3: Control Beyond the Control (and on the Go)
Integrating with your everyday technology expands the possibilities for you to plan and prepare your steam baths (which we believe makes it easier for you to enjoy them more frequently). So, when you're ready to get in, your steam bath can be ready and waiting at the perfect temperature and ambience. It allows you to maximize your time by enabling you to tell your steam bath to turn on, up to 24 hours in advance – from anywhere you can connect to Wi-Fi.
From work, the grocery store, the gym, the yard, kids' practice, or wherever life takes you – a few moments on your phone is all that's needed to initiate a future steam bath. Or, maybe you're at home prepping dinner, playing a game, watching a show, or in the middle of a million other things that occupy your time – rather than stopping what you're doing, simply ask your Google Home, Alexa, or Siri to turn on your steam bath so it can be ready when your activity ends. The K2 Touch Screen Control flexes to your lifestyle with the intent of making steam bathing more accessible for you.
#4: Price Point
Because there isn't a drastic variability in the price points of the control options, we recommend leading your decision with the control functionality first, and then price can follow.
Of the 3 controls, the K2 has the highest price point to align with its features while the K4 comes in at the lowest. As you'd expect, the price point is reflective of the customizability of your steam bath experience, which is dependent on the capabilities and functionality of the control you use.
---
THE COMFORT OF WELLBEING
We are here to make luxurious wellbeing not only possible, but comfortable – at every step of the journey. Deciding which steam bath control matches your tech and home heat bathing preferences should be simple and straightforward. If any of your questions remain unanswered, please connect with your local dealer.